By

11 months ago

Are you ready to get or spend money? I hope so because Diablo III real-money auction house is now available in the Americas game region and normally Friday for Europe. The servers are ready for the U.S. dollar, Australian dollar, and Mexican peso. Players will be able to buy and sell the loot they find in the game using actual currency via approved third-party payment services (PayPal) or using their Battle.net Balance.
The real-money auction house for the Europe game region and the remaining Americas game region currencies (Chilean peso, Argentine peso, and Brazilian real) will launch in the near future.
To access the real-money auction house, click on the "Auction House" button on the left-hand side of the campaign screen, and then on the button showing your region's currency in the upper right-hand corner of the auction house interface. This will switch you between the gold- and real-money auction houses.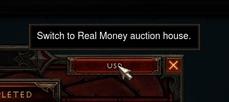 Remind that you can only access the real-money auction house if you are in your home region. Characters created outside of your home region will not be able to buy, sell, or use items from any real-money auction house.
Players who wish to use Battle.net Balance to buy and sell items will need to attach a physical Battle.net Authenticator or Battle.net Mobile Authenticator app (Google Play, iTunes, Blackberry) to their Battle.net account.
Those who wish to use PayPal™ (available in certain regions) to buy items or receive the proceeds of their auctions will need to sign up for our Battle.net SMS Protect service. With Battle.net SMS Protect, you'll occasionally receive a text message on your mobile phone when making PayPal-related transactions; this message contains a code that you must then enter to proceed with your transaction.
For more information read the full article on the official website.